 Gymowl provides smart fitness features
Sign-up members and prospects online or through an in-person kiosk, using a laptop, tablet or mobile device.Manage multiple programs, customize ranks, levels and promotion criteria.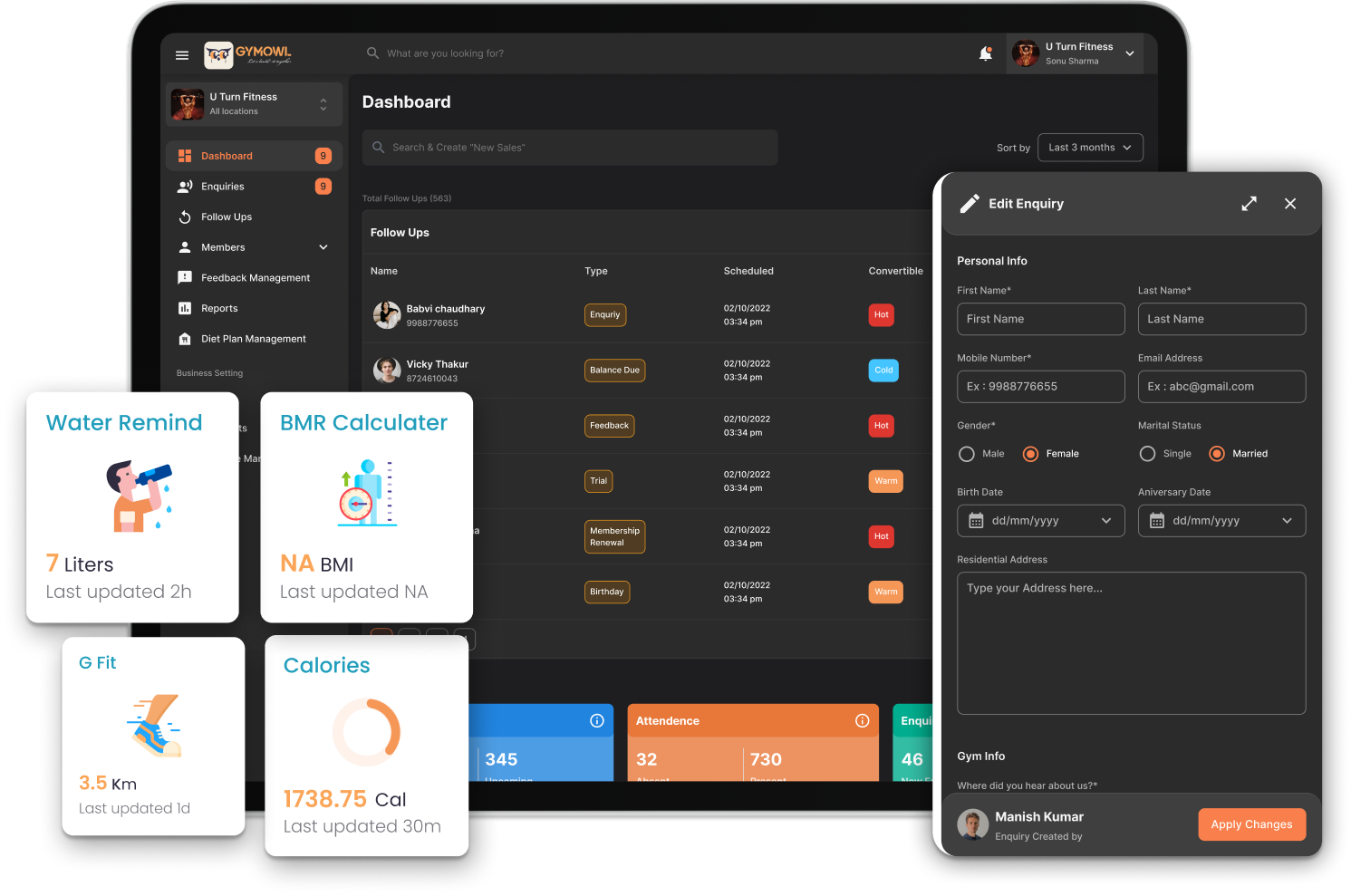 Member Registration Process
Empower your club members with our top-notch fitness software solutions, granting them autonomy and self-management capabilities.
Our Quick Registration feature optimizes the enrollment process, reducing both time and effort required for completing necessary steps. It simplifies and expedites registration, ensuring a seamless experience for users.
Members management is the main goal of gymowl software, which helps employees respond to customers' needs faster. Members management features allow gyms to avoid lines at the check-in desk, reduce waiting times, and so on.
Our Gym App gives your members the convenience of reserving classes, referring their friends, and exploring your other club locations using our advanced club locator feature. The app is also easy to use and can be downloaded on both iOS and Android device.
Club Retention
Our software uses cutting-edge analytics and comprehensive reporting to help you increase your gym's retention rate. With this software, you can track member activity, identify churn risks, and send targeted communications to keep your members engaged.
Our software allows you to you collect, store, and analyze data about your members. This data can be used to improve the member experience, personalize marketing campaigns, and identify churn risks.
With our Club Automation centre, you can effortlessly automate your club's operations. From sending out special offers, class schedules, payment confirmations, to tracking contract due dates – it's all taken care of. Aside from that, you can also simplify your gym's sign-up process through the client portal and offer convenient access to your members through turnstile integrations.
Keep your clients motivated and engaged throughout their contract with our personalized communication tools. Stay connected with emails, push notifications, and SMS alerts, ensuring they never miss a beat. Plus, you can easily send out event and class reminders, making sure they stay on track with their fitness journey.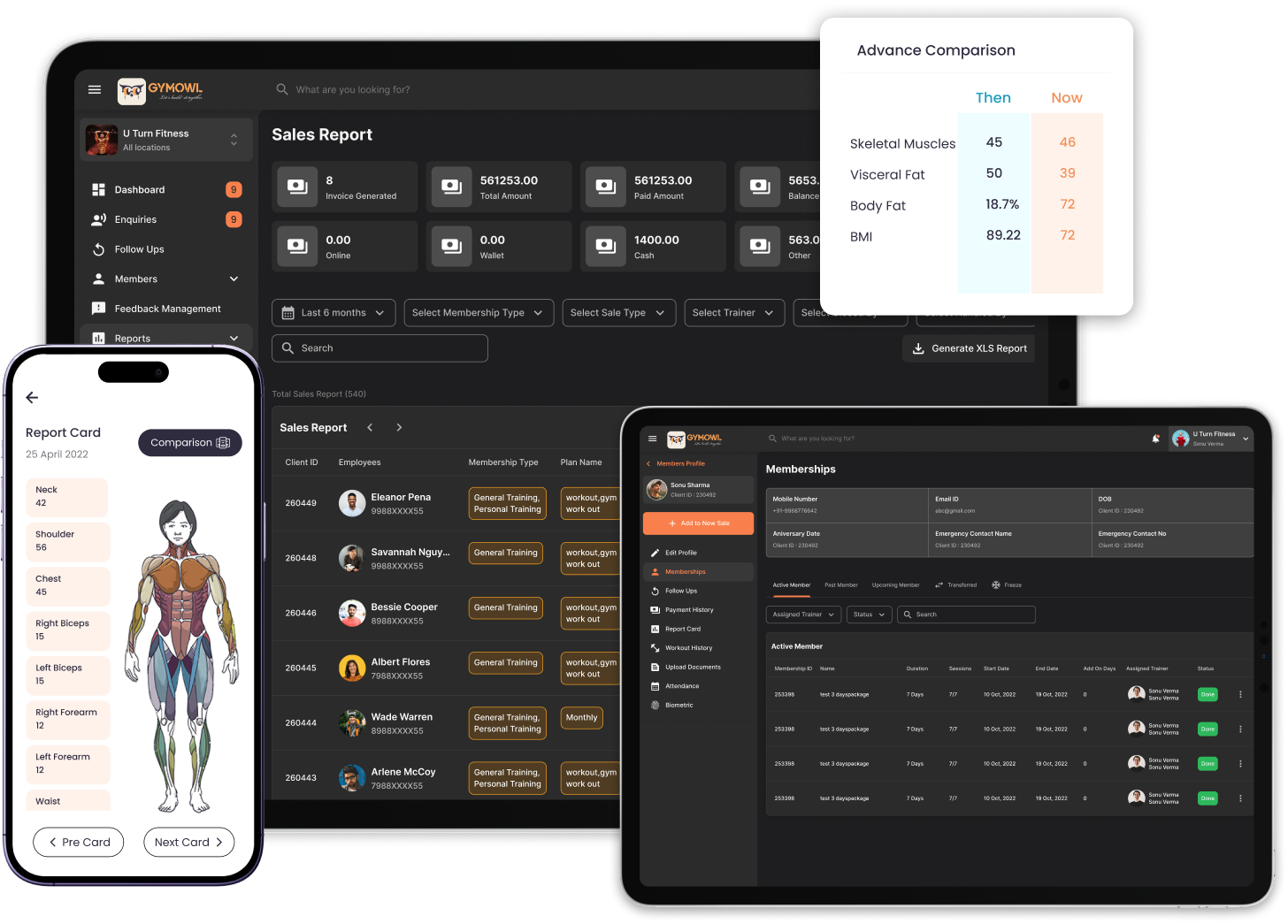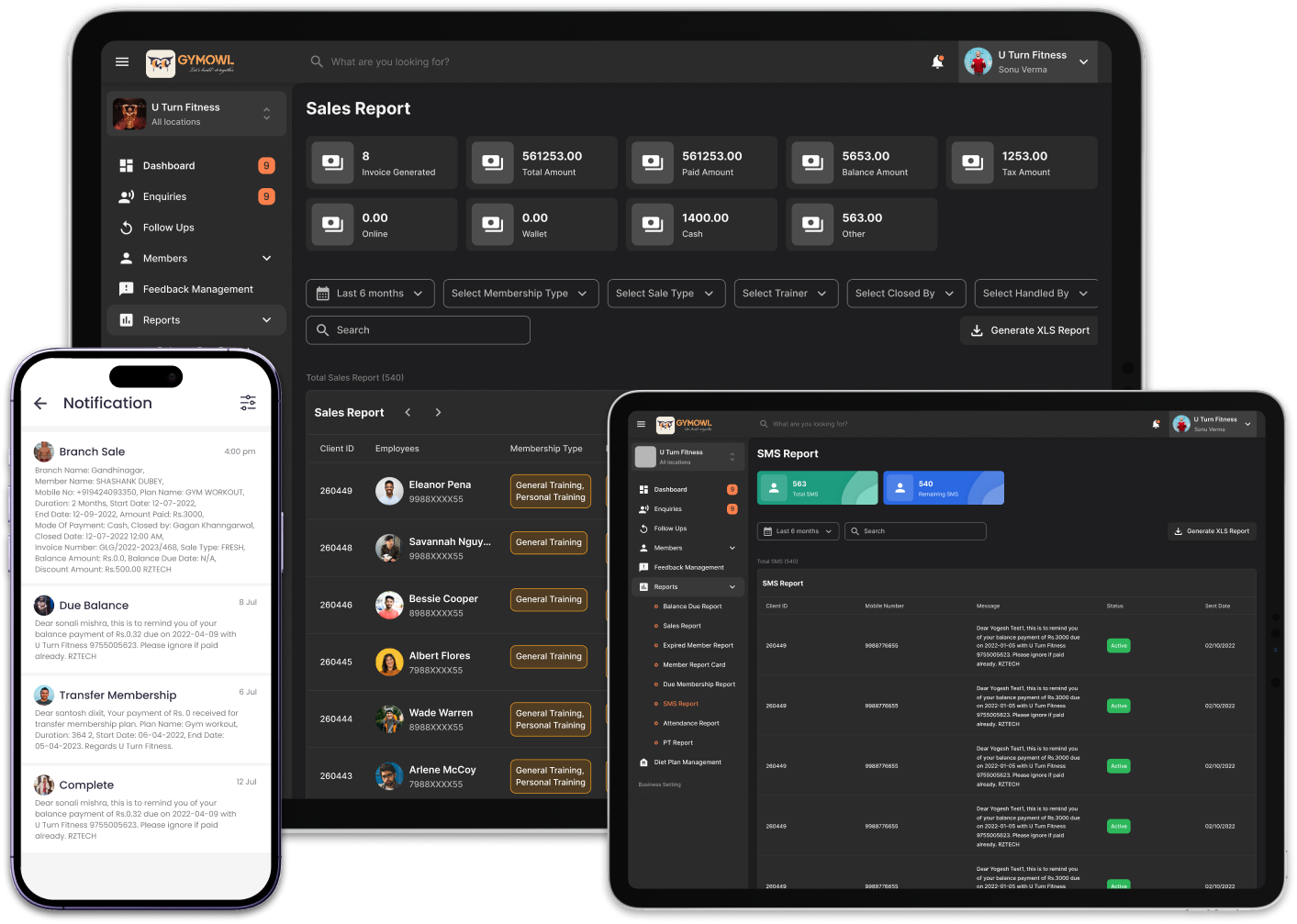 Sales & Marketing
Our specialized platform enables you to improve member acquisition at your fitness club and boost your sales and marketing performance. You can maximize your reach and attract new club members like never before.
Our payment integration makes front desk transactions easy for everyone. Members can sign up for classes, book personal training sessions, purchase supplements, and pay dues all at the reception desk. This is convenient for members and staff alike, and it helps to streamline your operations.
Our Business Intelligence module uses data from your other clubs to recommend fitness classes to new members. This data includes information about member behaviour, such as which classes they have attended in the past, and their preferences, such as their fitness goals and interests. This information is used to create a personalized recommendation for each new member.
Track the entire customer journey from prospect to happy club member! Our CRM software allows you to assign the lead acquisition channel to each prospect, so you can see which marketing channels are most effective. This information can help you improve your marketing campaigns and attract more new members.
Operations
Our health club and fitness management software solutions are intended to make running your club a breeze. Our software can assist you with streamlining your operations and saving time and money by managing member registrations and payments, tracking attendance, and generating reports.
Our interactive dashboard provides you with a centralized view of your health club's most important metrics and data. You can easily track key performance indicators (KPIs) such as membership numbers, attendance, and revenue. You can also choose from over 10 different reports to get a deeper understanding of your club's performance.
Our software offers a variety of integrations that can help you enhance your club's fitness experiences for your members. These integrations include: Bio metric device, BMI machine and more.
Easily manage your gym or health club's staff operations with our dynamic employee scheduling, commission programs, and notifications. These features help keep your employees organized and motivated, so they can provide the best possible service to your members.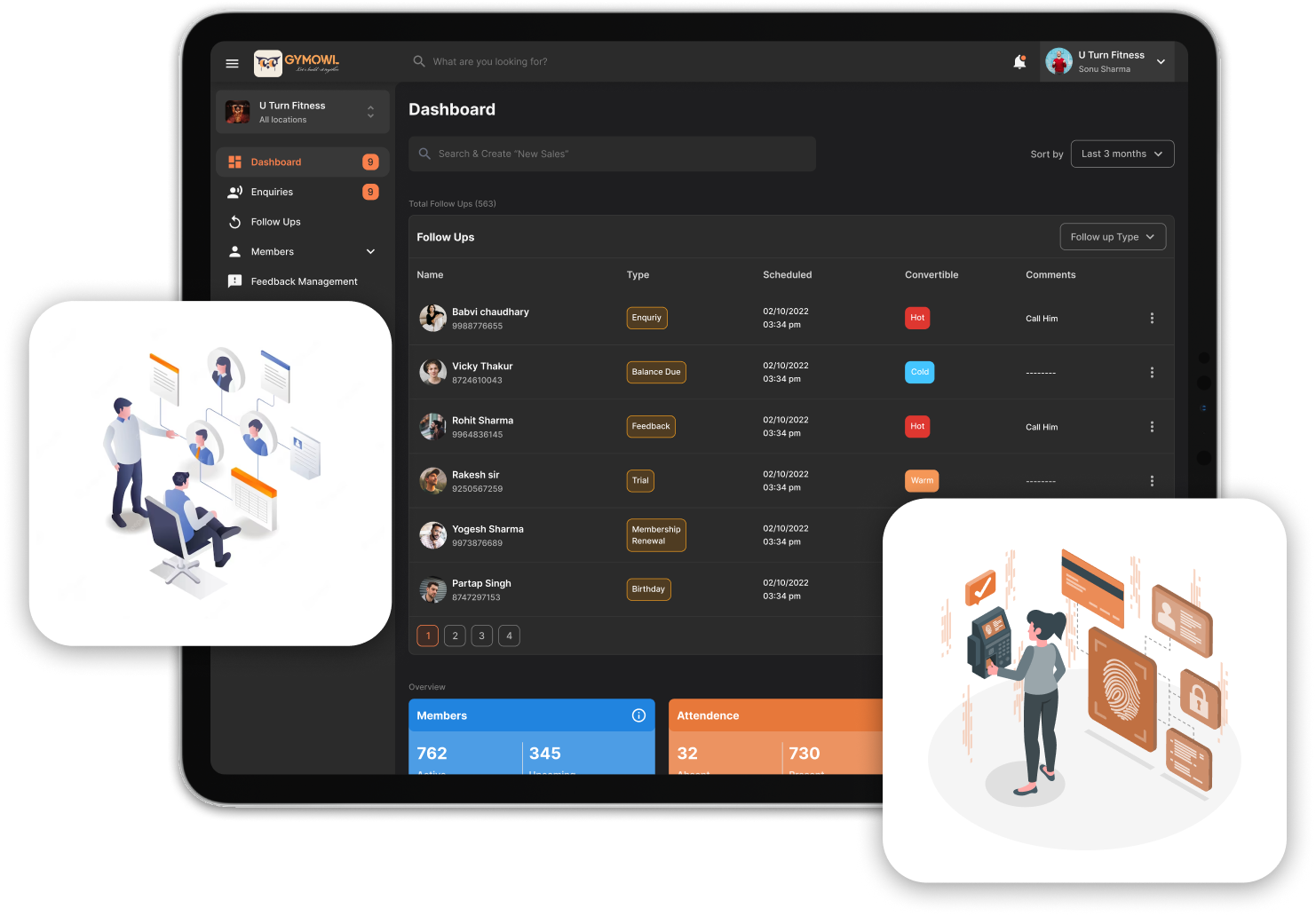 Gymowl provides smart fitness features

Members Management
This feature streamlines the administrative tasks associated with managing gym memberships, user profiles, attendance, payments, and communication.

IVR System
Incorporating IVR technology into a gym's communication strategy can lead to improved operational efficiency, enhanced member satisfaction, and more effective utilization of staff resources.

WhatsApp
WhatsApp can serve as a powerful tool to enhance member engagement, improve communication, and create a stronger bond between gyms and their members.

BMI Integration
BMI integration provides members with an initial baseline measurement of their body composition, helping them understand where they stand in terms of health and fitness.

Pay Roll Management
Payroll management extremely helpful for gym owners and managers in streamlining their administrative processes and ensuring accurate and timely payment to their staff.

Data Security
OTP (One-Time Password) system and IP security are strong measures to enhance data safety in your Gym. These security practices contribute significantly to protecting user accounts and sensitive information.
hassle-free experience is now the currency that drives customer loyalty. Our Gymowl software helps fitness centre find more ways to make life convenient for their members on a day-to-day basis.
Adopt a data-centric approach with our gym software, leveraging its insightful data analytics to empower your decision-making process with the most effective strategies and approaches.
Service is the silent ambassador of your brand and your ambassador earn reputation by trying to do hard things well.
We are fortunate to work with exceptional brands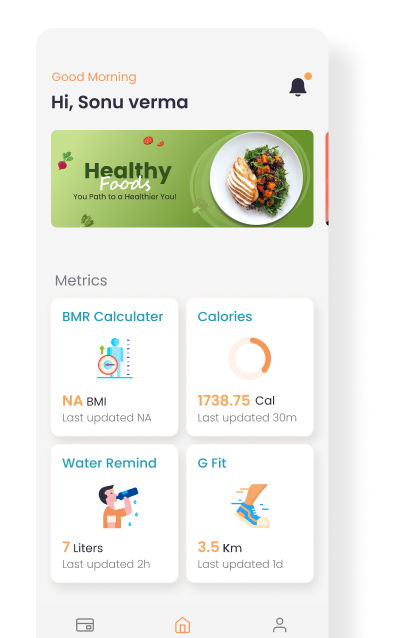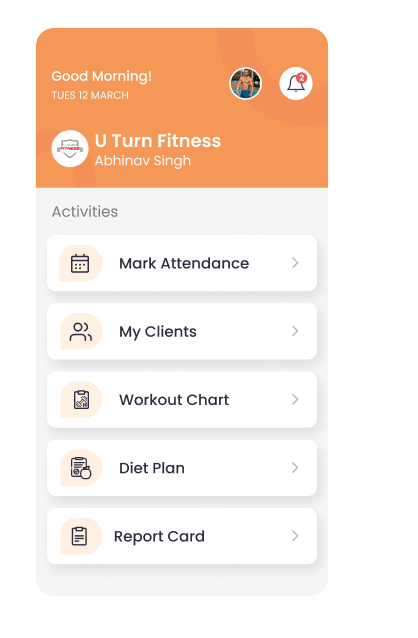 Don't get suffocated

with overcrowded Clients, we have Application for you
Check your everyday attendance on GymOwl Mobile App.
Get Expired Membership Alert, Payment Alert and many More.
Engage your members by sharing fitness workout plan on members mobile with No of Sets & reps and 2000+ Workout Gifs.
Engage your members by sharing Diet plan on members mobile with regular notification and diet updates.
Increase members retention rate by providing members workout journey and body measurement results with compression. Trusted by
500+

the Worldwide Gyms and Fitness Studios
I just love the fact that the software provides me with all the features to manage and build my business. As a new business owner, I find the software very easy to use and also very informative. Thank You, Gymowl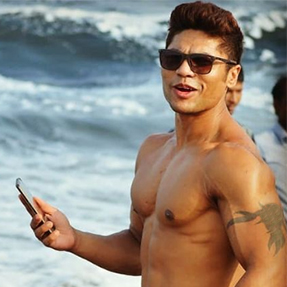 Kaustubh Lokhande
Founder of Loha the Fitness Kingdom

When I opened my fitness centre a few months ago. Gymowl worked with me and ensured a great start to beginning my doors on the first day. Even better, they are always ready when I need anything. Support is great!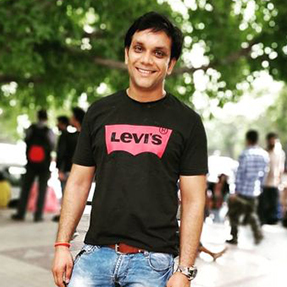 Abhinav Chauhan
Founder of U-Turn Fitness

I think you can add member measurements, and also that you can add a login to your website for your customers for online booking - and it looks professional. I can't see how I can run and manage my gym without it.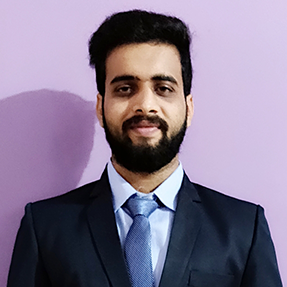 Sajjan Singh
Founder of Purohit Dairy

We have been associated with Gymowl from a long time as we feel like the marketing strategy made by them helped us a lot to grow our business everyday and it was quite easy to come out of this pandemic by following the marketing with them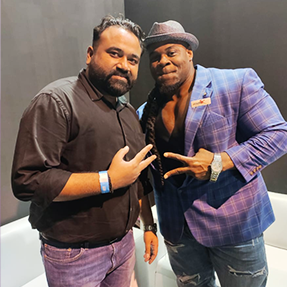 Sandeep
Founder of Workout Zone

Gymowl has given a perfect solution for the gym owners like me to take the account of their business by providing their gym management software with all the necessary features useful to grown the business and the whatapp feature in their software is the thing most liked by me.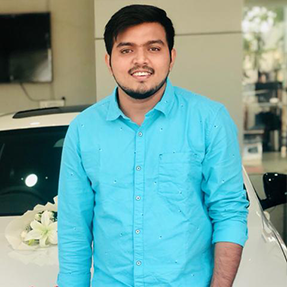 Dhruvil Patel
Founder of Euro Fit

% Customer Retention Rate
Digitally Transform Your Health Club
Our cutting-edge fitness software serves as a digital hub, enabling a range of options and fitness encounters through seamless data utilization and integrations. By harnessing the power of technology, we empower fitness facilities to embark on a transformative digital journey, ensuring an enhanced experience for their clientele.
Get to know more from
GYMOWL BLOG